On This Day:
Wednesday November 28, 2007
This is the 331st day of the year, with 34 days remaining in 2007.
Fact of the Day:
toilet
paper
The first successfully marked toilet paper was by Edward and Clarence Scott of Philadelphia, who sold it on rolls. The group of papers known collectively as the sanitary grades include toilet tissue, towelling, facial tissue, and napkins. These grades are made from various proportions of sulfite and bleached kraft pulps with relatively little refining of the stock to preserve a soft, bulky, absorbent sheet. This sheet is further softened by machine creping, in which the wet sheet is pressed upon a smooth drying roll and subsequently removed by running against a flat stationary metal blade (doctor blade). The sheet is piled up upon itself, thus producing a creped effect. Facial tissue is dry-creped; that is, drying is complete on the drying roll before the creping doctor blade. Towelling is generally of heavier weight than the tissues and is usually creped while still wet. Napkins are of somewhat heavier weight than tissues.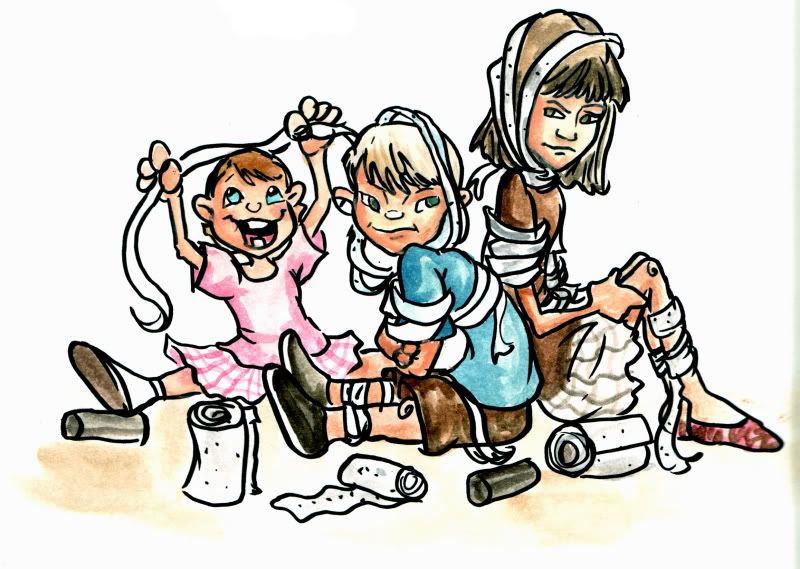 What is it that attracts kids to toilet paper? Molly's big thing right now is to unravel as much toilet paper as is possible in the shortest amount of time possible, leaving me the biggest mess possible to dispose of.
Thanks Molly.
And it's a good day that Molly doesn't get some assistance from her helpful brother, Fox. Thankfully he outgrown that throwing the roll around and watch the paper unwide. Now he just likes to wipe his nose on the roll and set it back down. Be careful with the rolls of TP in our house.
Art is a big thing in the house. Fox can take or leave drawing. Chloe was scribblinb up a storm by his age. But never fear, Chloe is still our artist with a passion. We all love to color with crayons.
I find that I have a lot of strange phobias. I absolutely can't stand using crayons that don't have a sharp point. Each time a come across a rounded point, out that little sucker goes! Crayon boxes don't last long round these parts.
Did you know that the 120 Crayola Crayon set now includes 23 reds, 20 greens, 19 blues, 16 purples, 14 oranges, 11 browns, 8 yellows, 2 grays, 2 coppers, 2 blacks, 1 white, 1 silver, 1 gold.
Nothing beats a fresh pack of crayons. Who doesn't love that smell of wax the first time you break open the celephane and inhale?? Ahhhhh bliss!
Came across this art I did for a commission a while back. We're cleaning off one of our many computers hard drives and I stumbled on this. It was my character from DreamWalker ala' Mucha.
sigh…done pre-kids…I had so much time to squander back then.
Chloe did some doodles of daddy: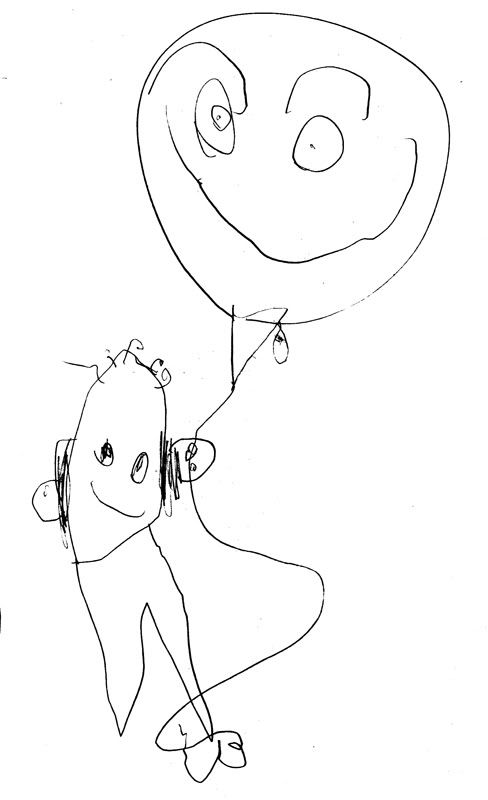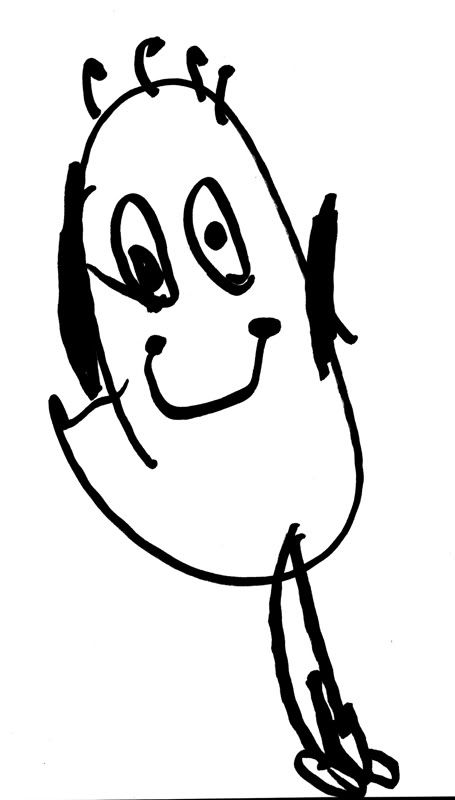 Barry says that he's going to use the first one as his avatar on the 01 sites.
Chloe's got him spot on! Way to go my li'l 4 year old!!!
I don't get a lot of time alone. Ok, I don't really get ANY time alone…except on my drive to work. These are my few moments of bliss where I can plug in my schweeet Vision M 60 gb mp3 player and chill out to some wonderful tunes.
I'm talking the good old stuff–some of it done before I was even born. Yes, there's a time for Britney's "Gimmie More" and who doesn't want to bring "Sexyback" but there's something about listening to old Rolling Stones "Paint it black" or "Brown Sugar" turned up loud enough to make your heart skip beats.
I've figured out how to make some of the awesomest playlists ever. I've got my running stuff, my cool guys set (men only, lots of retro-lounge lizard stuff: Nick Cave, Frank Sinatra, Morrissay…), seasonal, pure Elvis for Chloe…
It's nice to get re-acquainted with music again. I like my Yahoo Music! for the most part. I get to download and playthings that I personally wouldn't buy, but it's cool to be current. There's some cool stuff being done in music. I really like Amy Winehouse. I hope she snaps out of it soon. Love Fiction Plane. I've even begun rebuilding my classical library. Only thing I don't particularly like Yahoo Music for is their Jazz. I loves me my Jazz!
Work on Womblees goes on. It's all scanned in. I added 4 pages in the beginning and I think it makes it stronger. Right now I'm flatting each page before I go in a color. Must say I don't really look forward to coloring so I'm dragging my heels big time.
What I'm watching:
Journeyman
Chuck
Reeper
The Wire (have I ever mentioned that I love BrightHouses' HBO in demand stuff? Bliss. Have I also ever mentioned that The Wire is one of the most overlooked, best written, acted, ensemble casts in a mighty long time?? Go…watch it. Catch up on this awesome HBO series!!
Superman: Doomsday This took me back a bit. It was a lot more violent then I was expecting. I was fine with the Sups sleeping with Lois thing. But Sups took a couple beatin' in a big way. Worth a watch, but I don't think I'd let the kids watch it anytime soon.
I'm trying to get into Pushing up Daisys. Just ain't doing it for me.
Gave up on Bionic woman.
Want to get back into Heroes, but we haven't watched but the first 2 episodes of this season.