Available as of today my NEW series Summoner officially launches! I've gussied 'er up, patted it on the bottom & sent it out the public door.
What is Summoner about?  Jayne Sinclair is a Summoner. Hers is the ability to summon the spirits of the recently deceased back to the mortal plane. Some spirits resist her call, but others are all too willing to return.  Jayne  is a Summoner employed by the Metropolitan Constabulary. Along with Detective Gage and his new partner Detective Finnegan she is called to investigate a body found floating in a lake in a city park.
Get your copy hot off the press from here:
http://indyplanet.com/store/product_info.php?products_id=8660
Or download FREE (for the next little bit):
http://www.indyplanet.com/digital/product_info.php?manufacturers_id&products_id=8660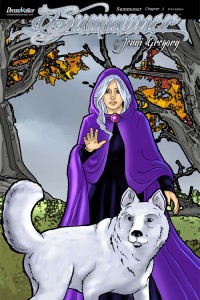 zero comments so far »
Please won't you leave a comment, below? It'll put some text here!
Copy link for RSS feed for comments on this post or for TrackBack URI
Leave a comment
Line and paragraph breaks automatic, e-mail address never displayed, HTML allowed: <a href="" title=""> <abbr title=""> <acronym title=""> <b> <blockquote cite=""> <cite> <code> <del datetime=""> <em> <i> <q cite=""> <s> <strike> <strong>