Before we went up to see my Mom we stopped off to the world class San Diego zoo! We had a blast.
We took a guided bus tour that was really worth it. It gave a nice overview of the zoo. Lasted about 30 minutes. It was right at the beginning of the park, so we just hopped aboard. The zoo has this cool program where if you print and bring these tickets you pay a less amount and get to ride the tour bus, express bus and air tram as many times as you want. It was well worth it.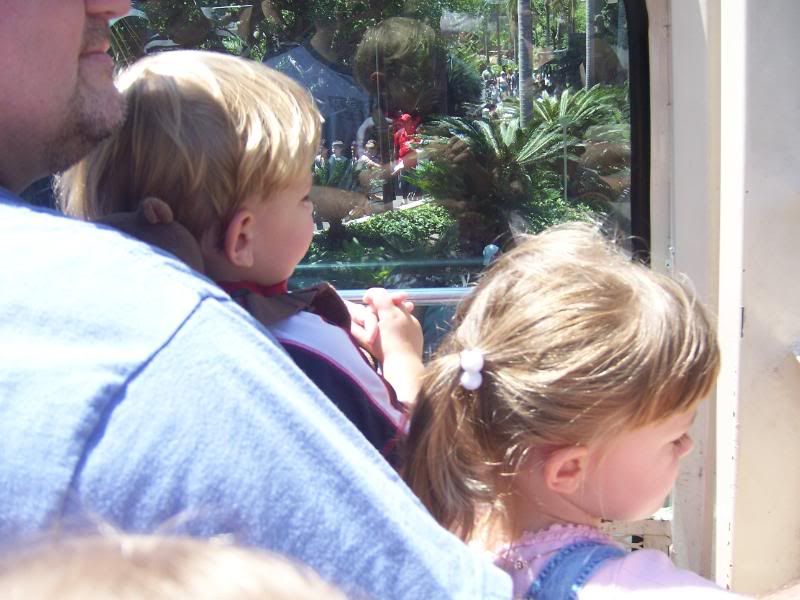 We got prime seats on the top of the double decker bus, first row.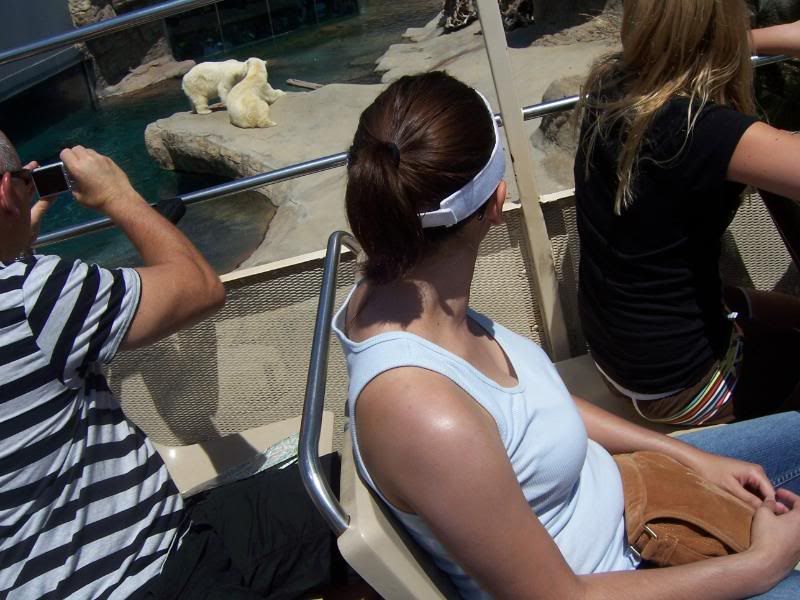 We were up pretty darn high in addition to being almost on top of a mountain. Here's looking into the polar bear cage.
Chloe sits enraptured by the zoo tour.
All Chloe wanted to do was see the giraffes.

Fox and Molly eagerly looking at all the cool things around them.
The grounds are incredible. SO much foliage!!! So many mountains…No, really…San Diego Zoo is built INTO a mountain. At some points it's so steep there are moving sidewalks that take you up these behemoths.
The bactarin camels…two humpers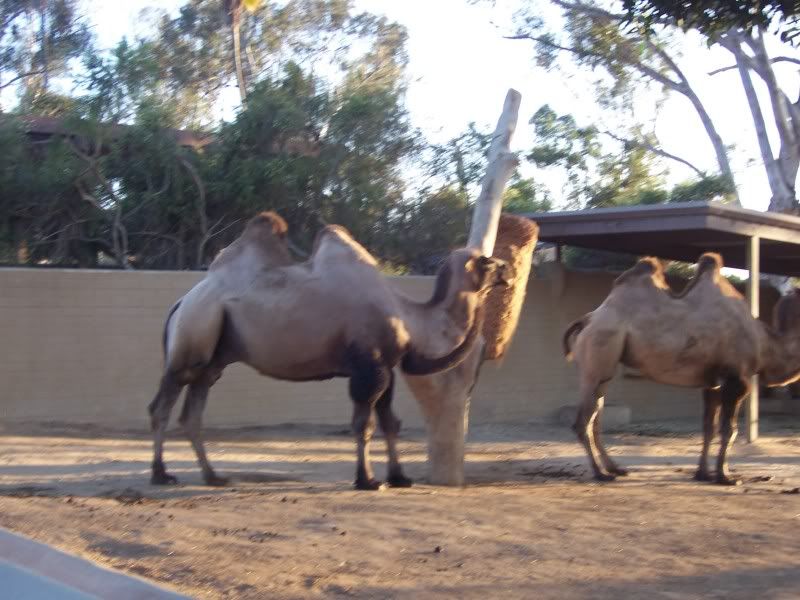 I wish I could remember what this little deers name was. He was tiny, and sooo dainty. His hooves were on tip toe!
Fox loved watching him.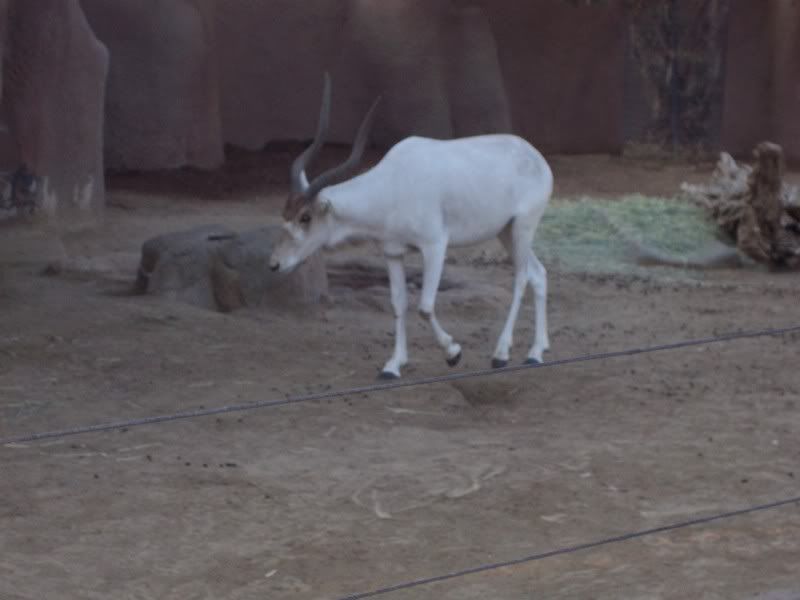 Scimitar antelope?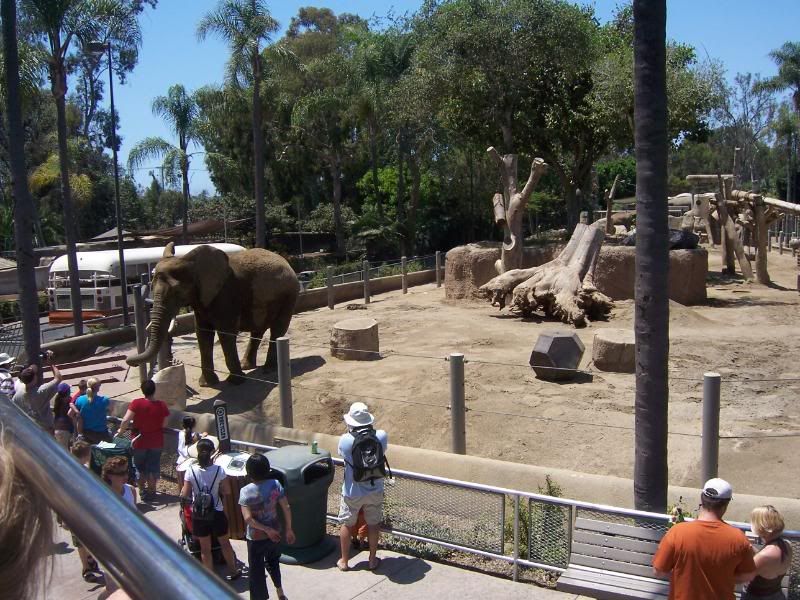 Some of the HUGE elephant exhibit.
They had both Asian and African elephants in the same exhibit. It rocked!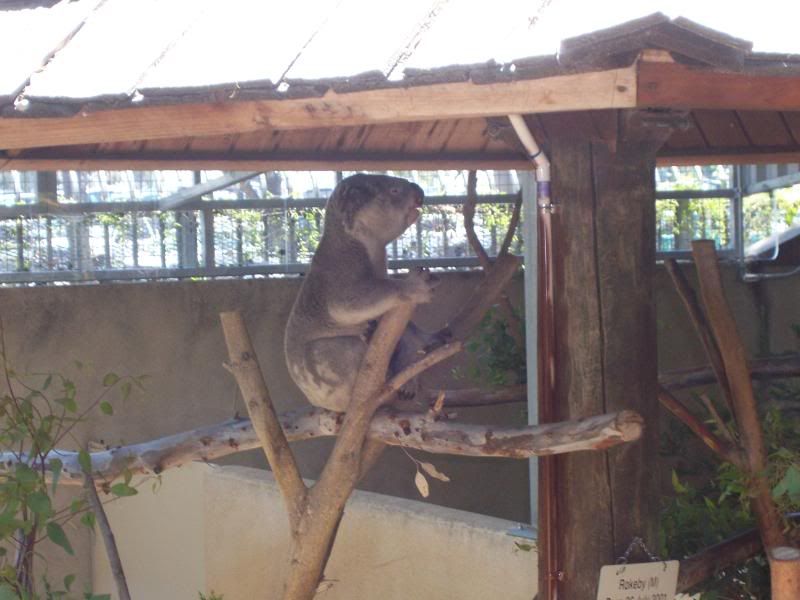 The koala's were so cute! I just wanted to take 'em home with me. In fact someone tried to do that a few years ago and they rebuilt the exhibit to make it a lot more difficult to get to these cuddly critters.
Zebras exhibit. I've always like zebras. They look so nice and calm…pity they are the bullies of the grasslands. Bad zebra, bad!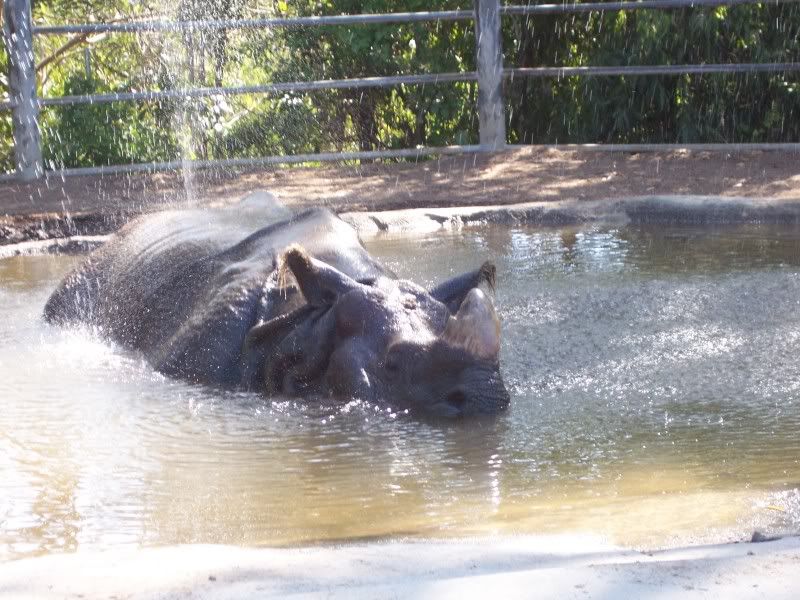 Rhino keeps it cool.
The panda exhibit was the best.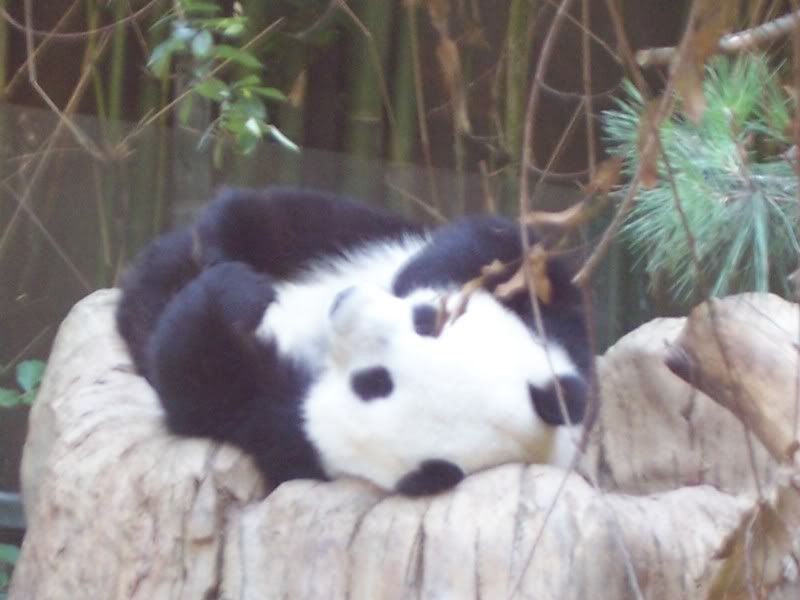 Darned lazy critters. All I have ever seen a panda do in ANY zoo it just lay there.
No…I take that back. At Atlanta zoo the panda was SITTING there eating bamboo.
I missed the kiwi. We saw him back in '97, but couldn't find the little fella this trip. I found out later looking at a map that we missed most of one side of the zoo.
Chloe makes friends over at the polar bear exhibit.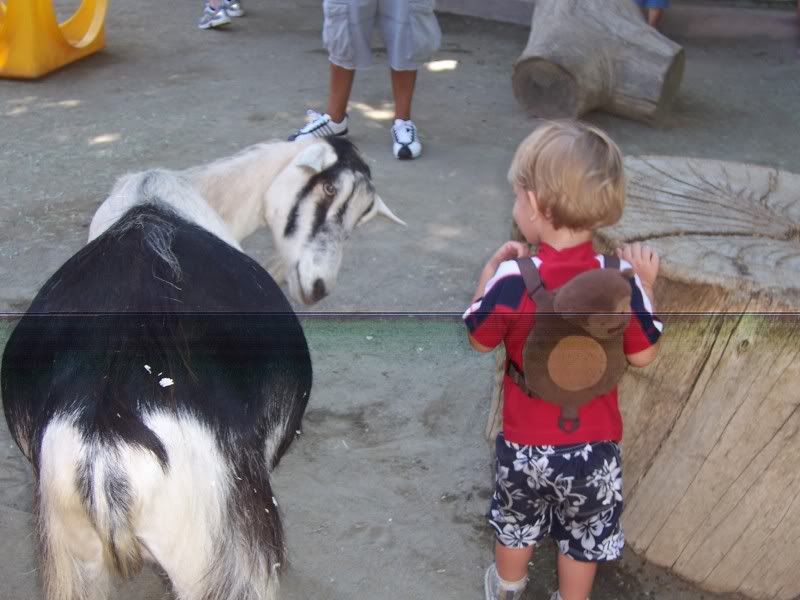 We spent a lot of time at the petting zoo. I always liked these places the best when we went to zoos as a kid. It was fun to just sit and watch the kids faces as they interacted with the animals and other kids. I'll treasure that.
The goats and sheep had these places where they could go rest and people couldn't get to them. Not our kids. They wouldn't be denied.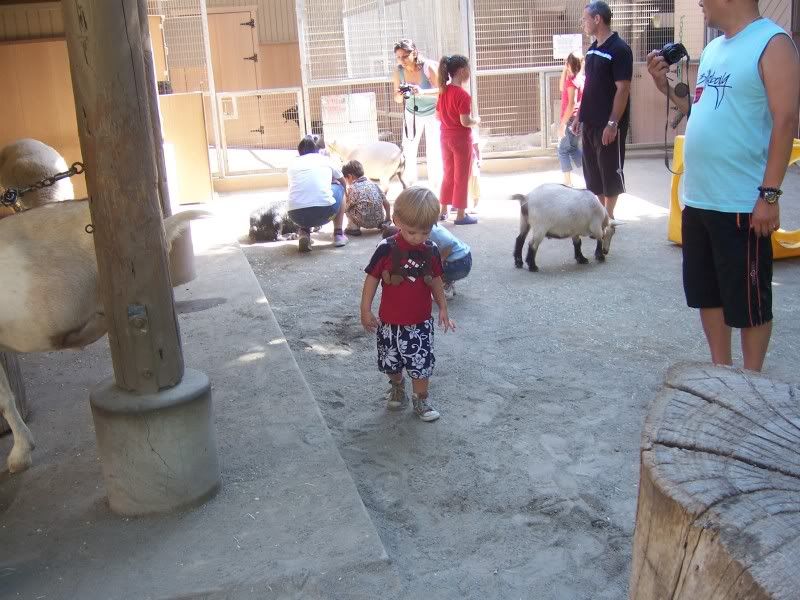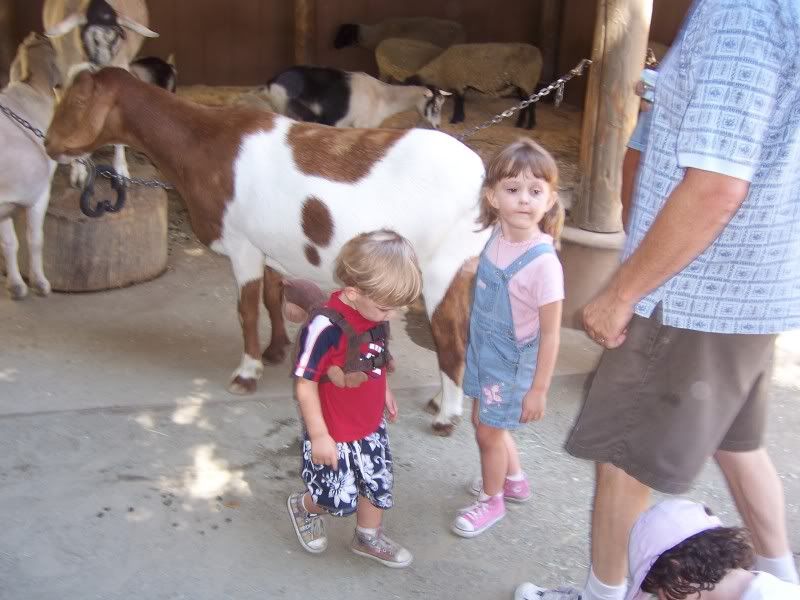 Chloe LOVES the animals. Fearless thing!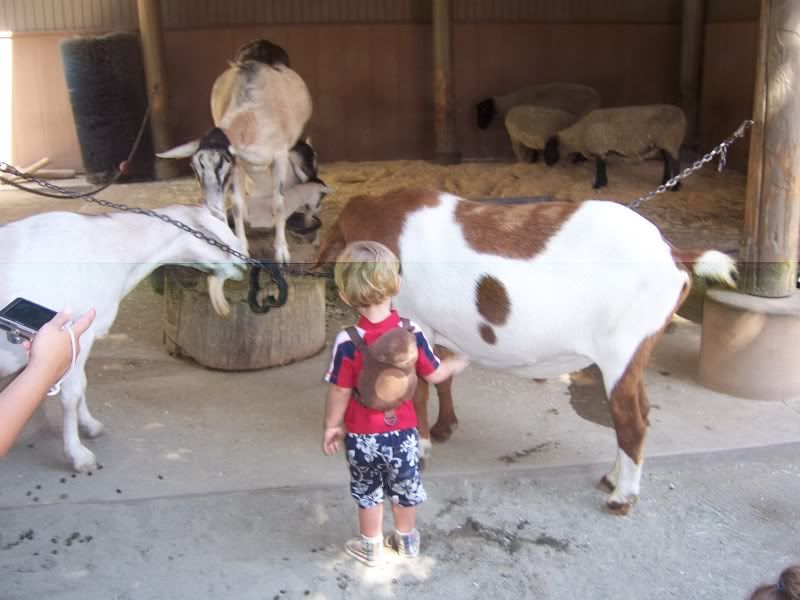 Fox kinda hangs back a little bit more.
Here's some of the grounds of the San Diego zoo. The trees are amazing!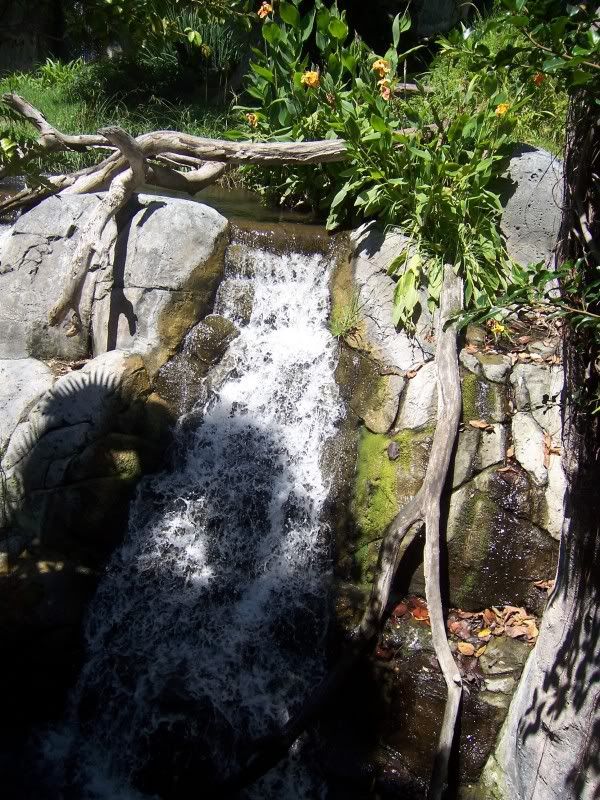 Everywhere you turned was so much beauty.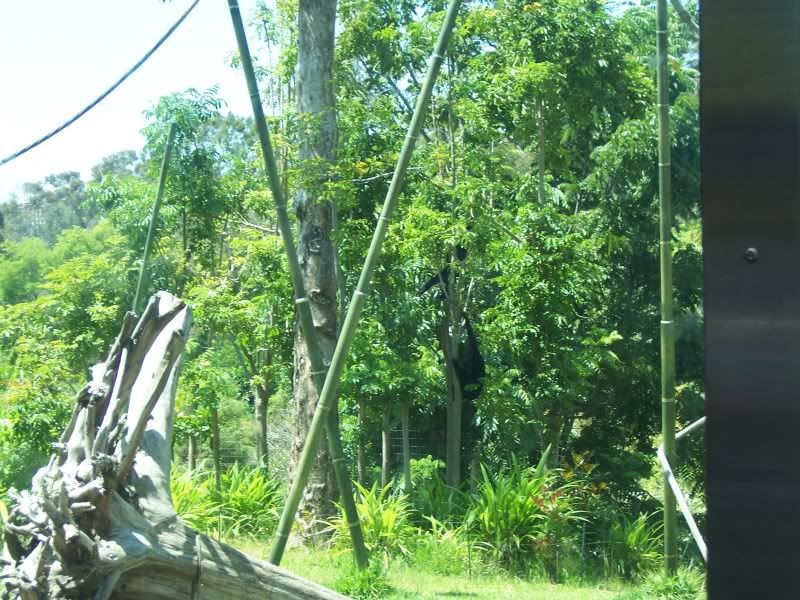 We arrived about 8:30 p.m. at my Moms. We left SD about 6 and it shouldn't have taken us anywhere NEAR that amount of time. But we later found out that on the weekends everyone goes to Mexico to their second houses. So the 5 was backed up from everyone returning from their weekend.
Anyway, after a quick stop at Pizza Hut we then made our way over to Mom's. My sisters and their families where there. It was awesome. I didn't take any picts of that event because I had been in a car all day after a convention and…ewwww.
Monday we took the kids to see the ocean. Keep in mind this is all Chloe wanted to do. Nonstop for weeks it's been beach! beach! beach! beach!
Grammy and CHloe walk to the water. Thankfully Mom only lives about 15 minutes from Laguna Beach.
My sister Lyn hold Molly.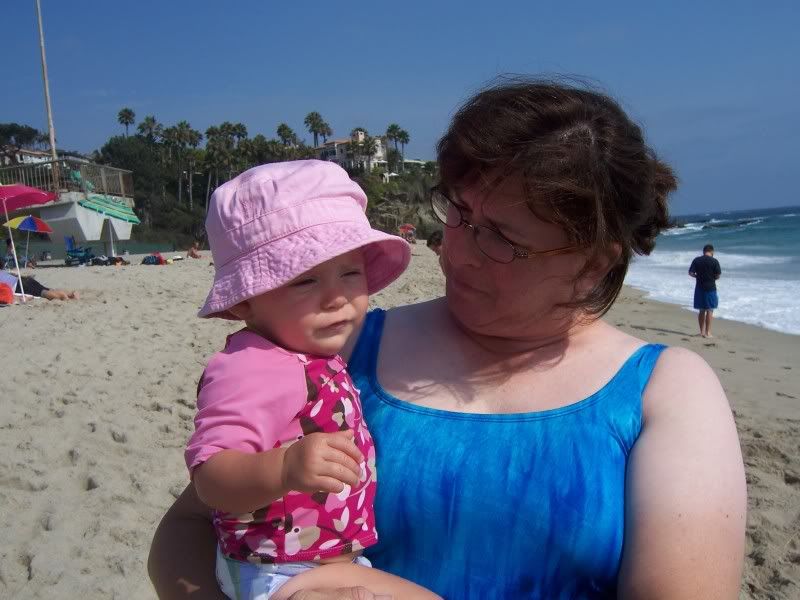 Fox tests the sand.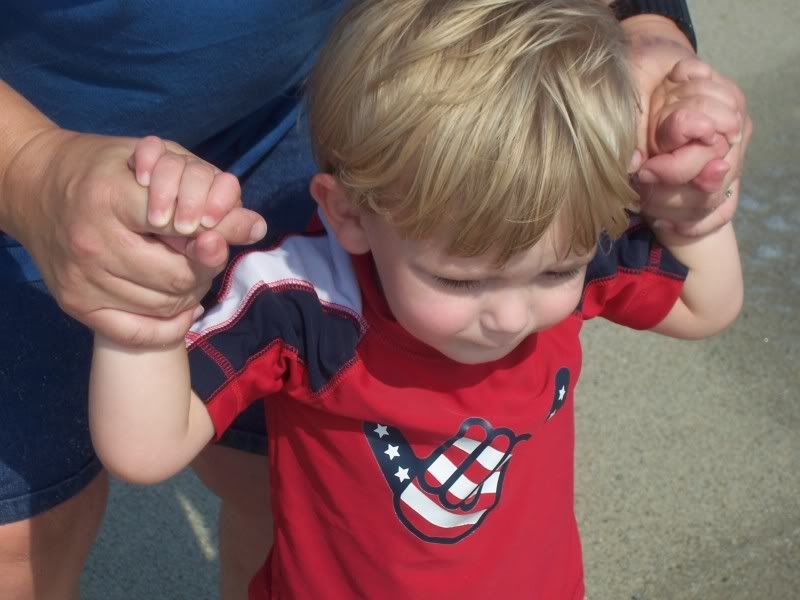 This was Fox pretty much the whole time we were close to the water. Death Grip on a hand, shoulder, hair …whatever.
So after Chloe got hit by the first wave (in fairness these were BIG waves) she pretty much hated the water part of the beach.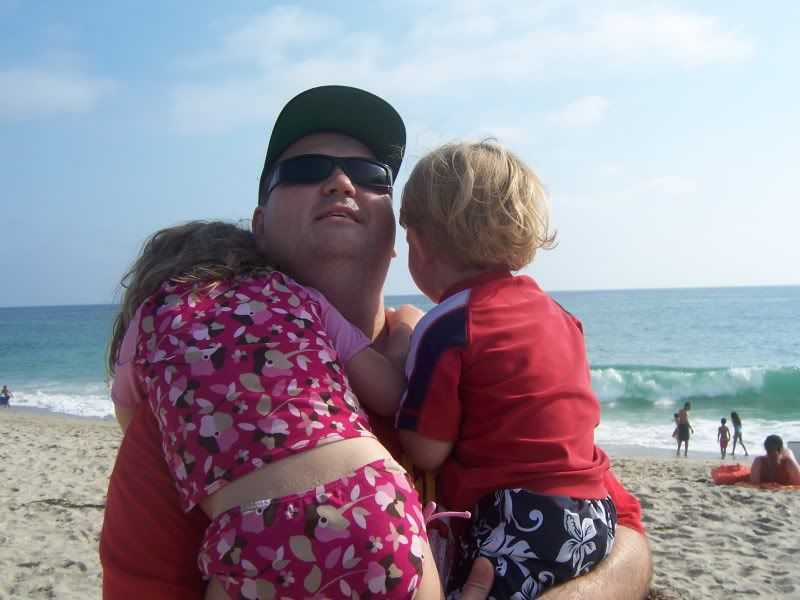 Both kids take this beach thing hard. Dad has it rough.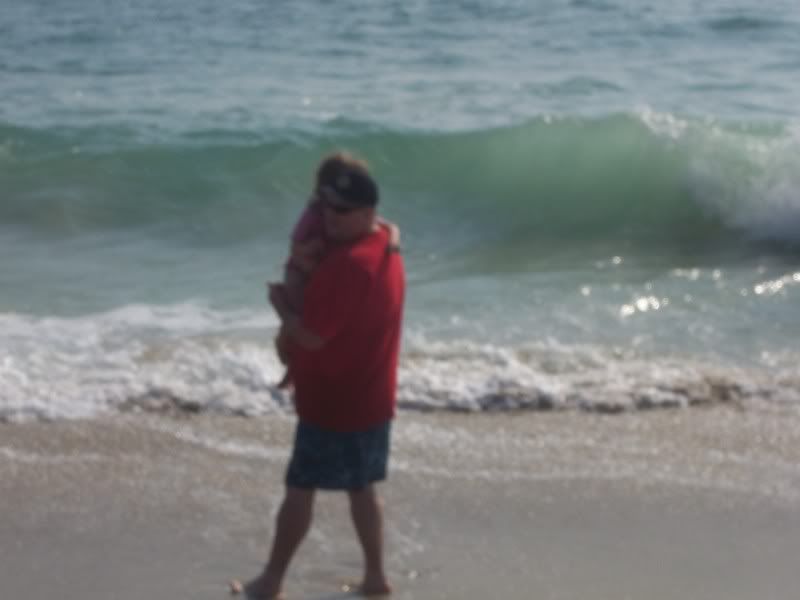 A calm moment with Fox. Good thing you can't hear Fox shrieking into Barry's shoulder!!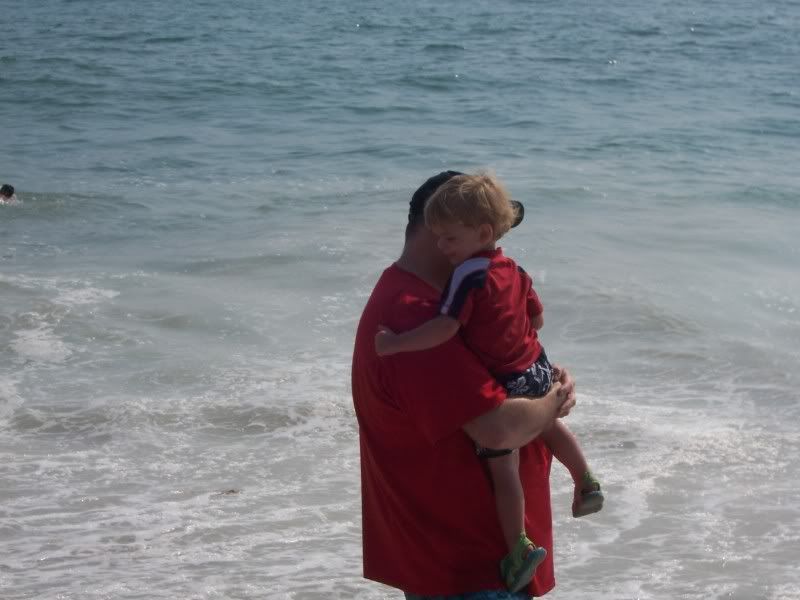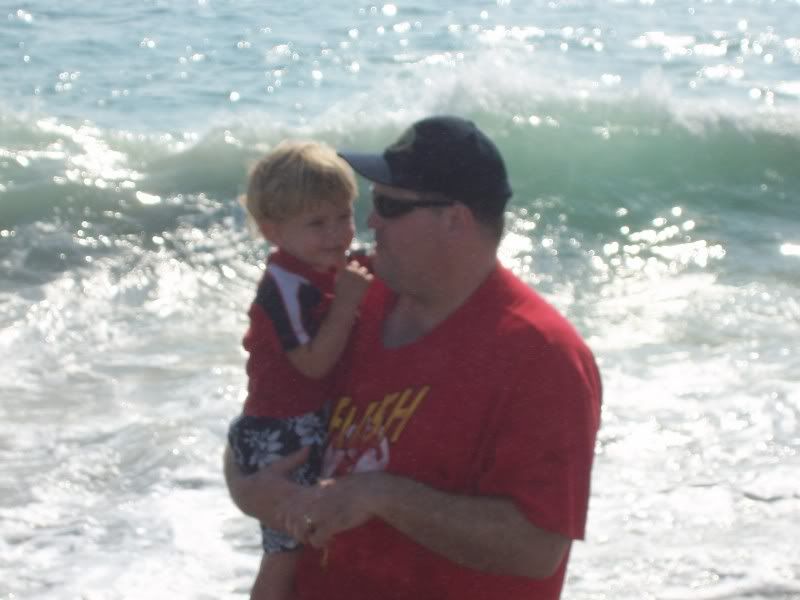 A couple of nice moments for the boys.
It was really cool because we did get to see a small pod of dolphins swim past. My sister Lyn caught sight of them first. I didn't get a good picture of them. But it made Chloe a little happier. For a moment or two.
Lyn, Chloe and her cousin Andrew play on the beach.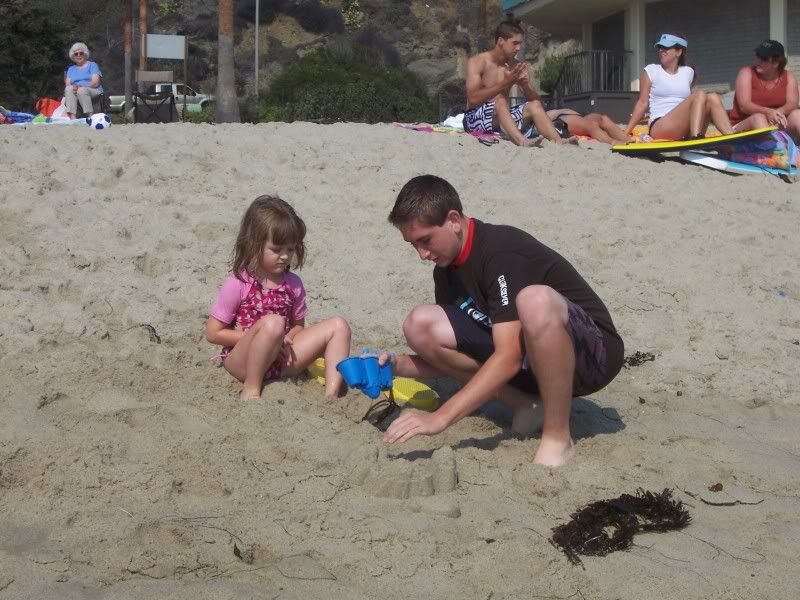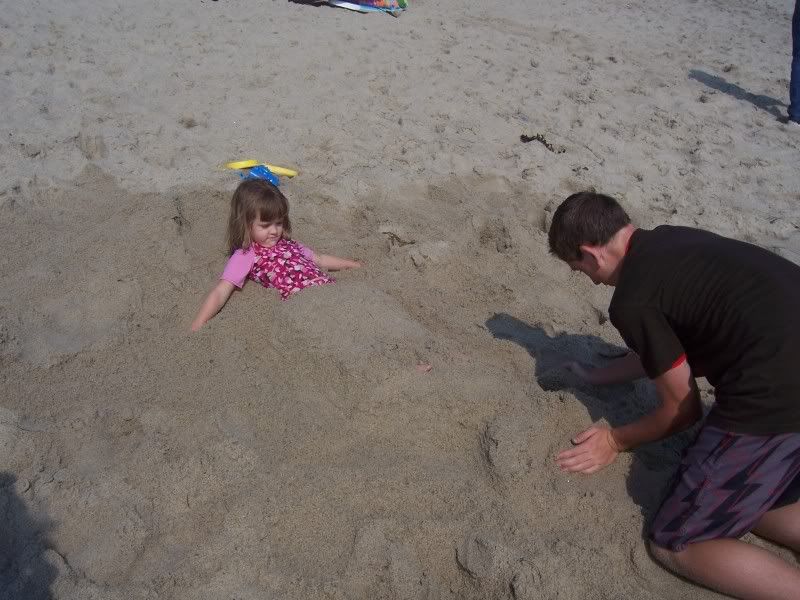 Andrew is THE coolest kid EVER. He really made Chloe feel special after the beach slapping her down incident. I kept telling him if he wants to come out and Manny for us next summer, I'm all for it!
Me on vacation!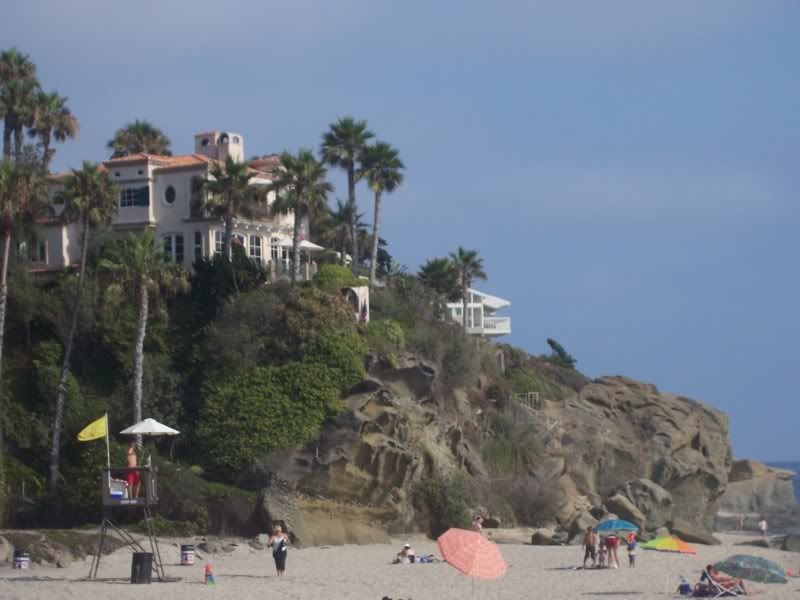 Some of the gorgeous homes built into the cliffs of Laguna Beach.
Some of my favorite photos I took while at the beach:
This series is from the "Chloe takes the beach rejection thing hard" series.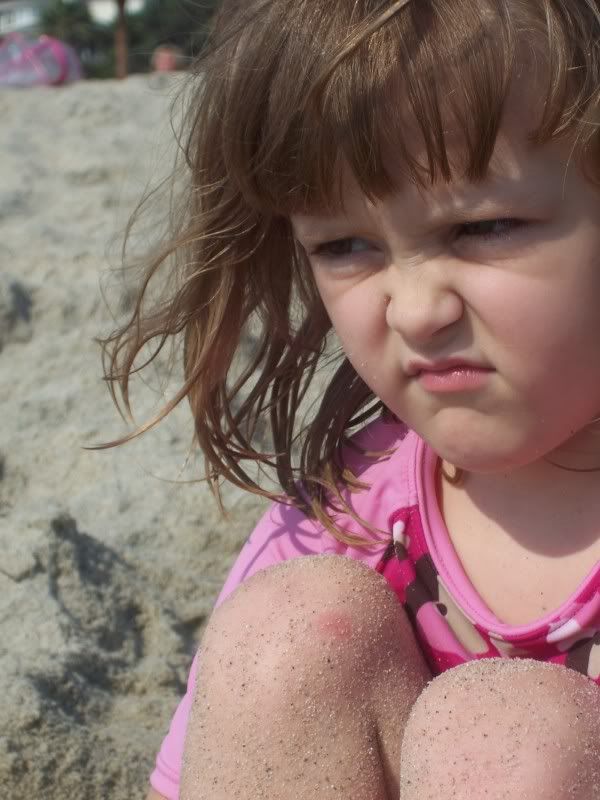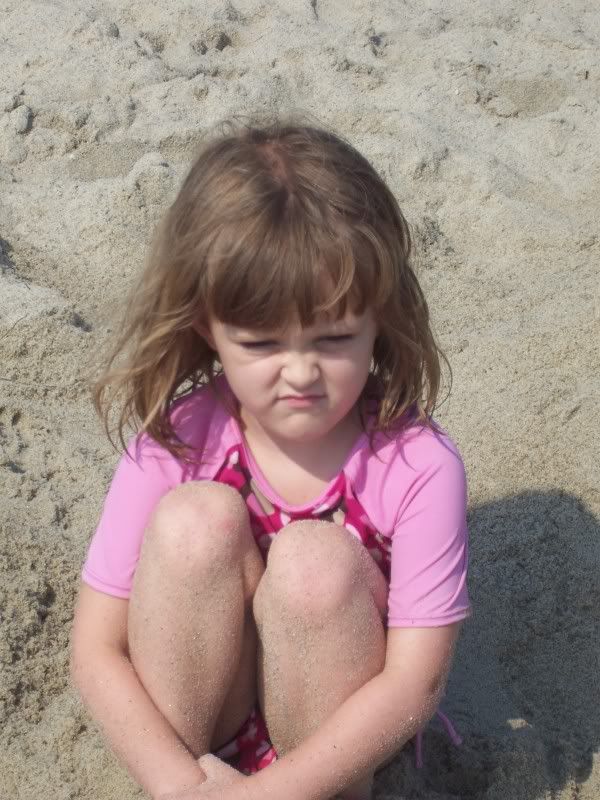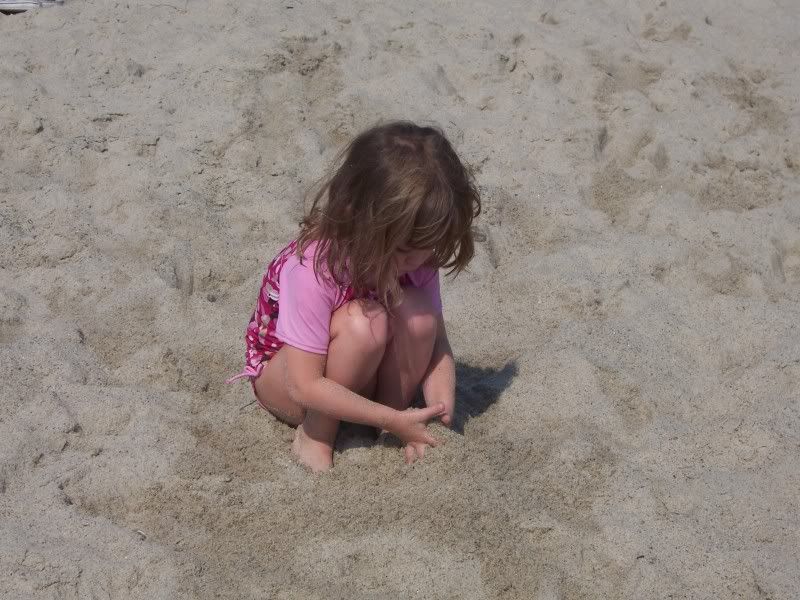 But she gets over it…eventually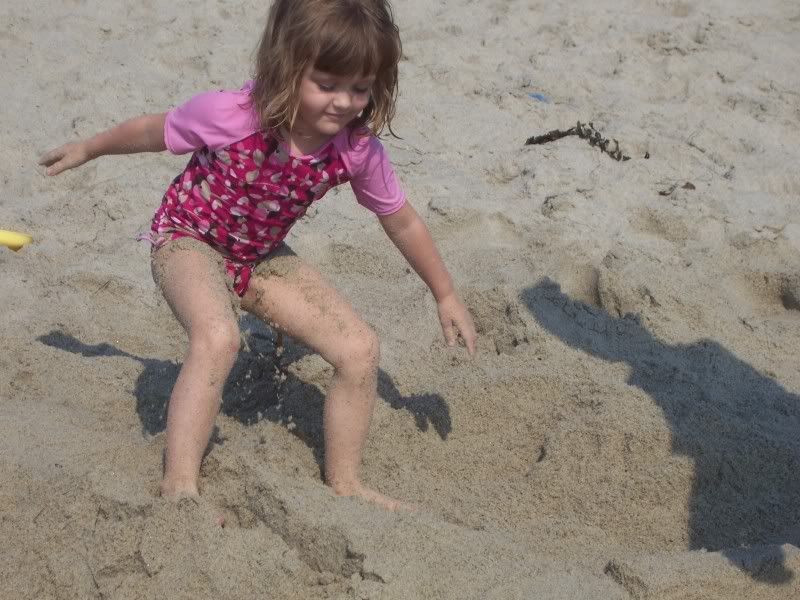 The guys wake boarding were fantastic! I could have watched them forever. Is no one in California unfit?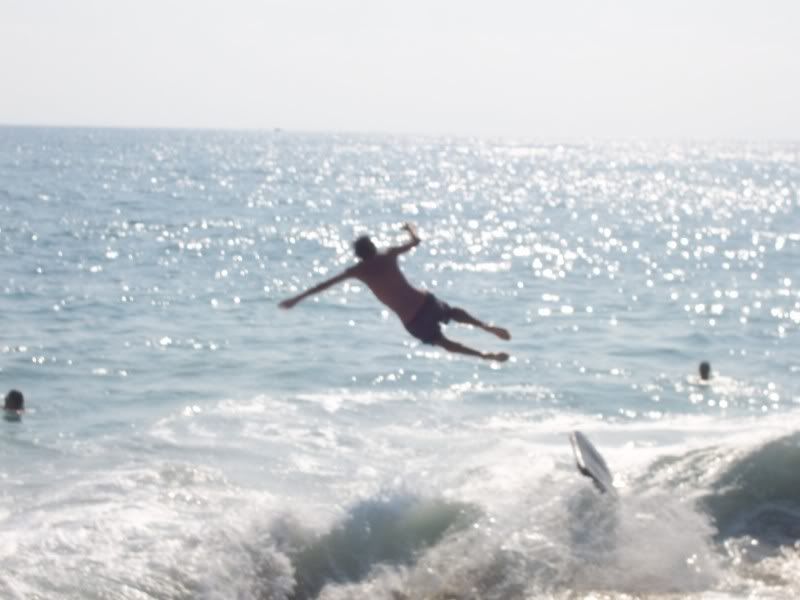 C'mom! It was a good shot!! Nice framing…well, I cropped the other dude out and it was even nicer, but I haven't uploaded that one yet.
That night we FINALLY found our Chinese restaurant!! Woohoo!! They even had octopus for the girl!
Grammy and Molly play before our big dinner.
Fox dug the seafood wontons
Grammy and Chloe bond over ice cream and egg rolls
Tummy…fulll…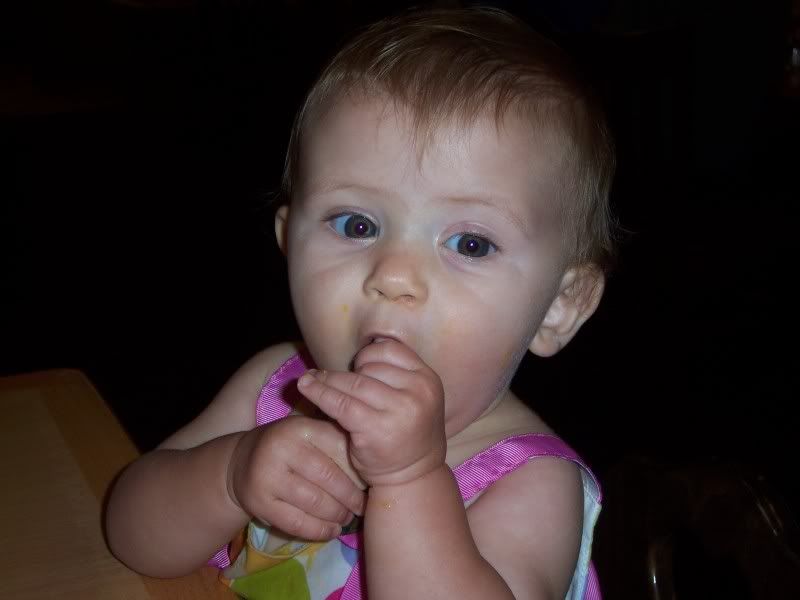 Molly's fingers just don't taste the same.
Tuesday Mom, Chloe, Molly and I went to the Sawdust Festival in Laguna Beach. It was awesome! It's this huge arts/crafts local artists thing that runs thru end of August.
Some cool art I saw.
There was this PINK wall by the womans restrooms. I had Chloe stand in front of it. I liked the results.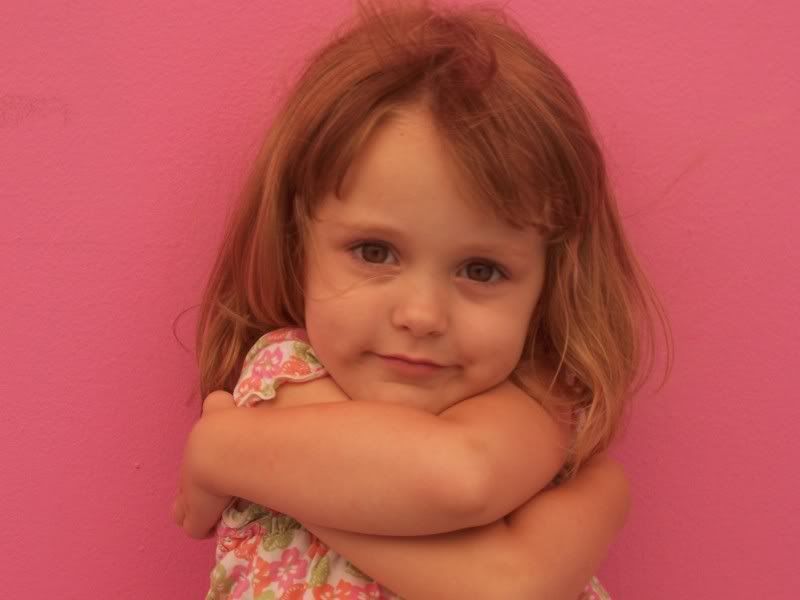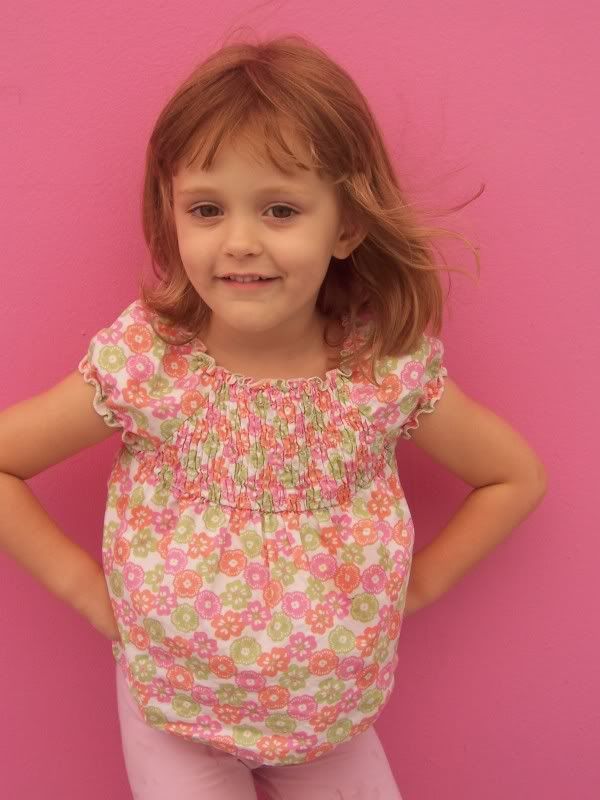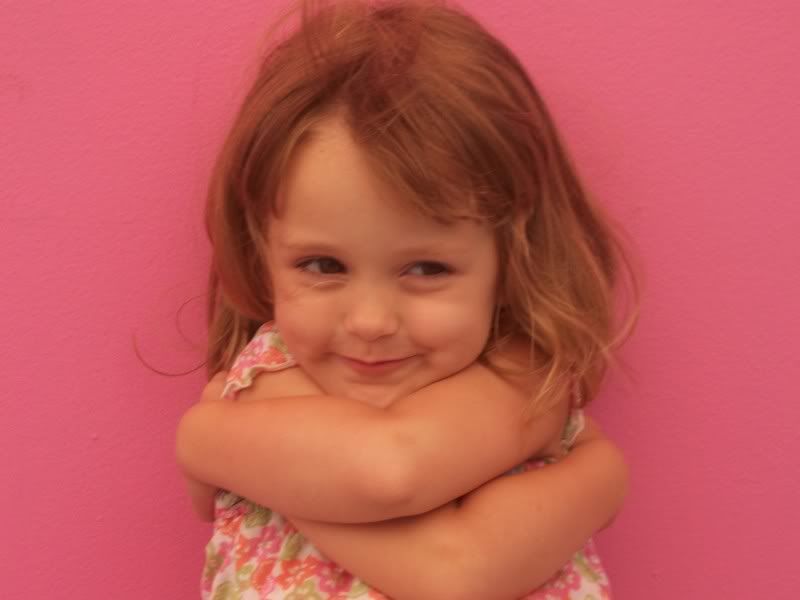 Molly hams it up.
Chloe found this octopus booth and it was VERY difficult trying to get her to leave it.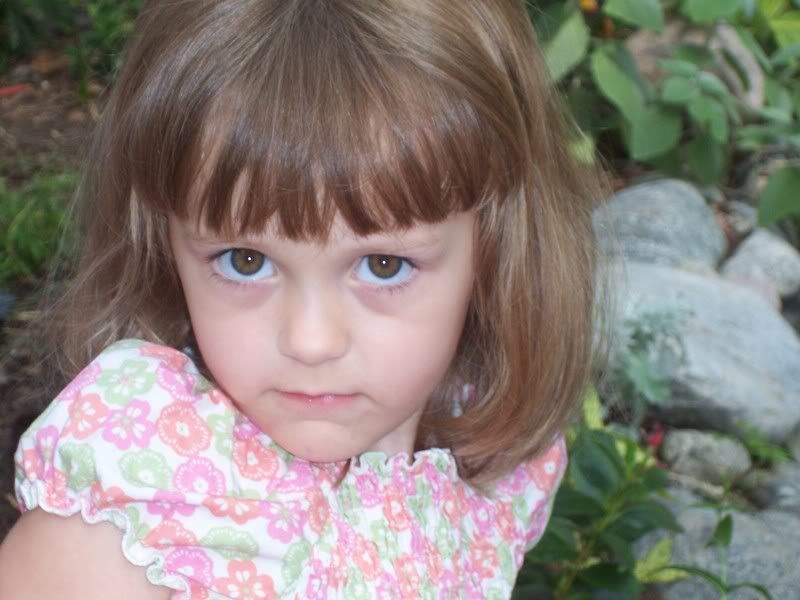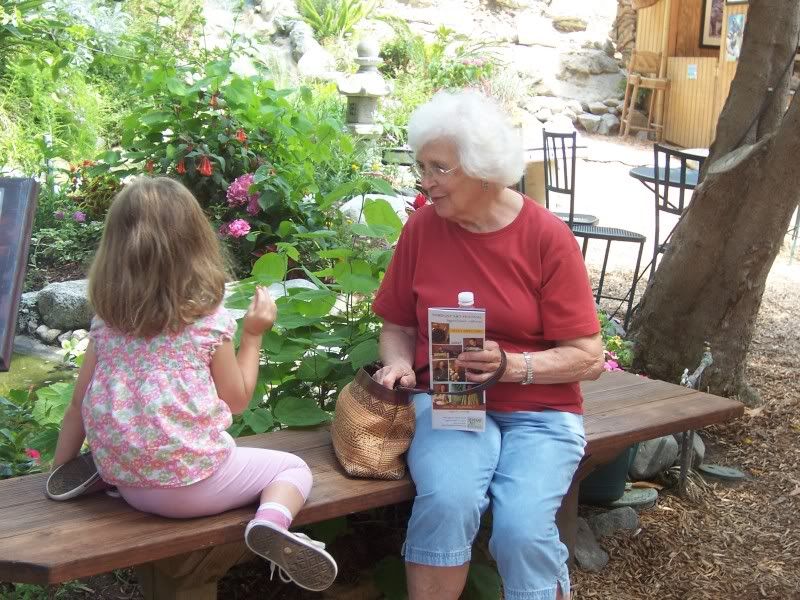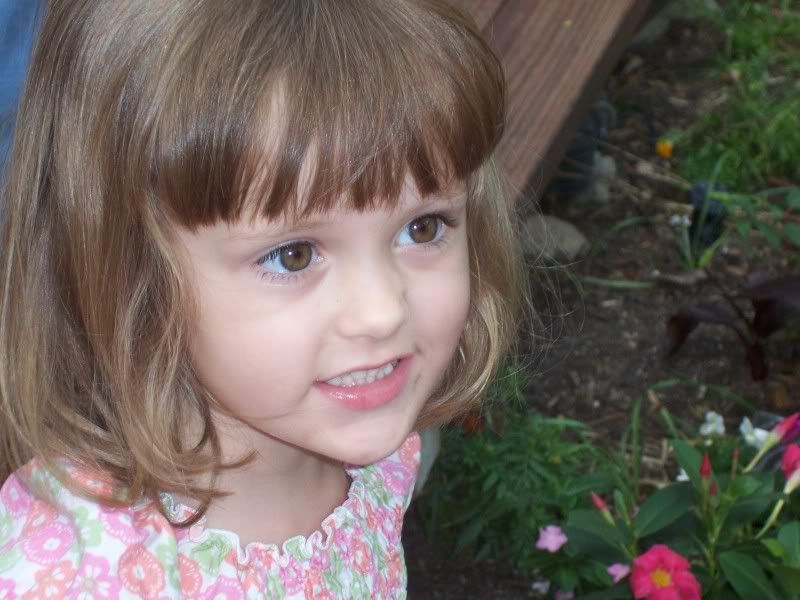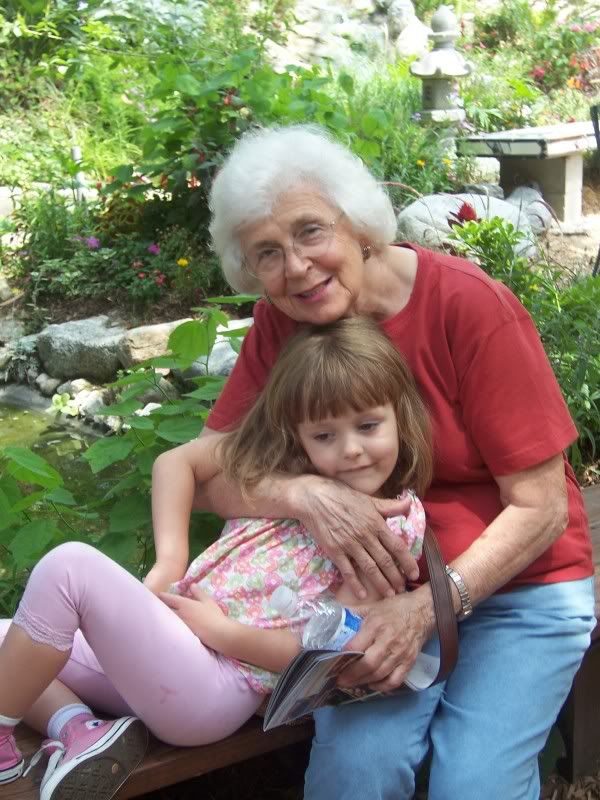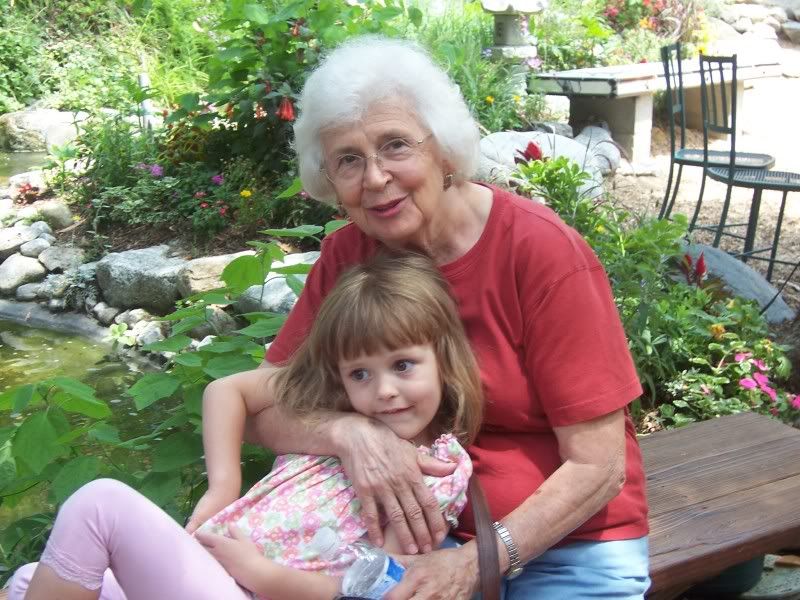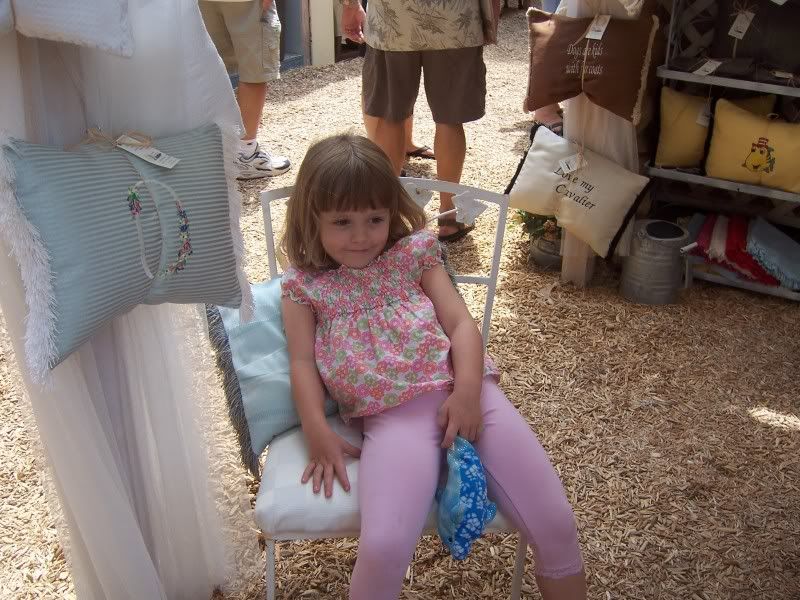 We found a kids craft corner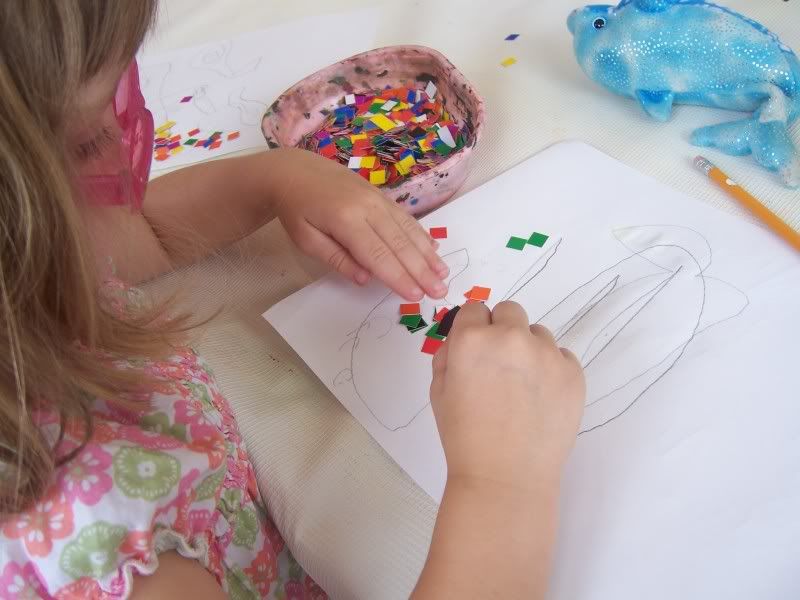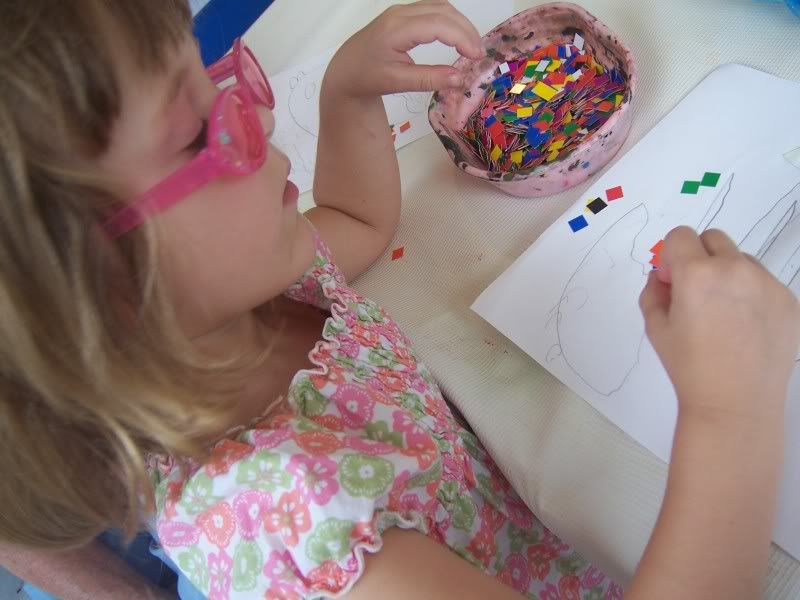 Chloe makes her mosaic.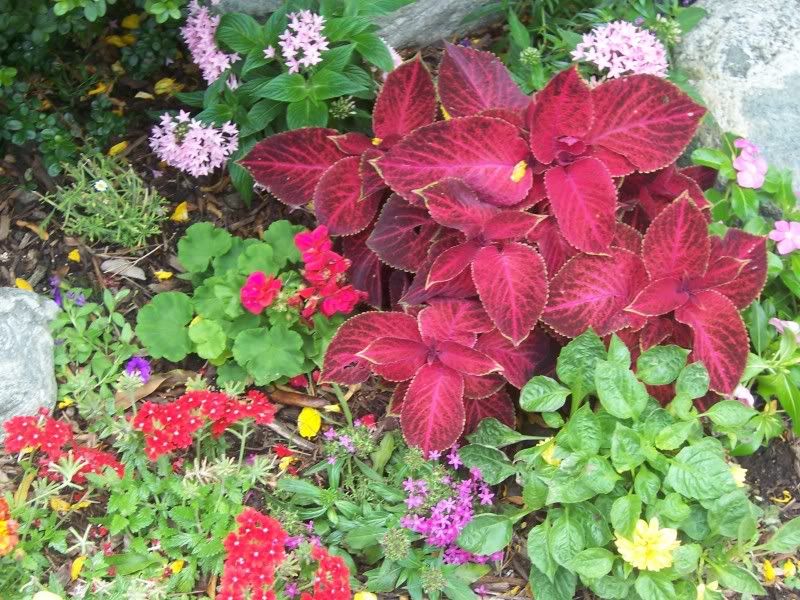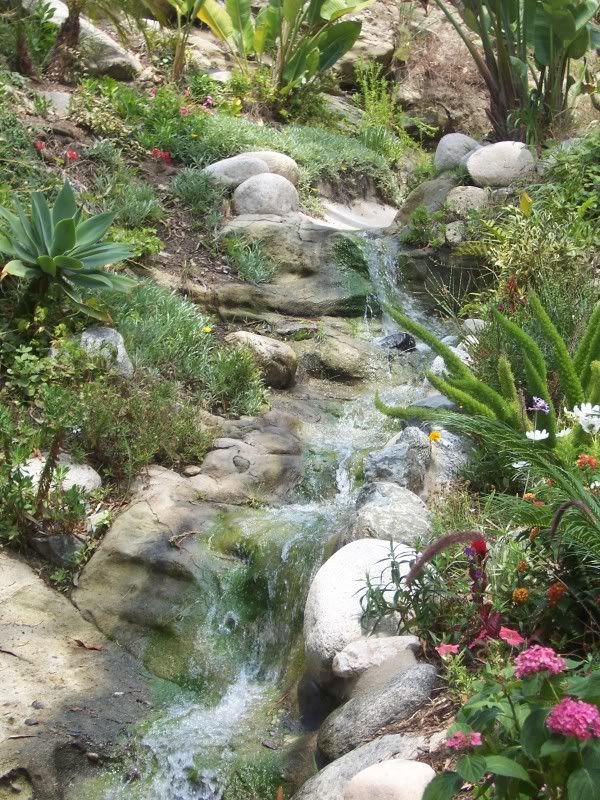 Some of the cool scenery around the festival.
Guess there will have to be a part III of this post since I've not downloaded some of my other California picts.
I was really impressed with how nice people were to us in California. I use to live there, and I don't remember them being as helpful or friendly. I asked a transit worker for information on the train into Mexico. She was amazingly helpful and in fact ran after me to hand me a brochure. I was quite a ways down the street. We didn't get to go to Mexico because I didn't bring any birth certificates for the kids along with me.
I am amazed at how relaxed I got on vacation. I knew I was stressed, tired, beat, but I didn't realized how deep I was. I loved and treasured each second with my family and watching the kids take in all they got to see and experience. I learned to take the small moments and enjoy them. The big stuff is great, but treasure the little bits in between. I learned again how quickly this childhood thing is going. Scares the pants off of me, but makes me oohhhh so proud.